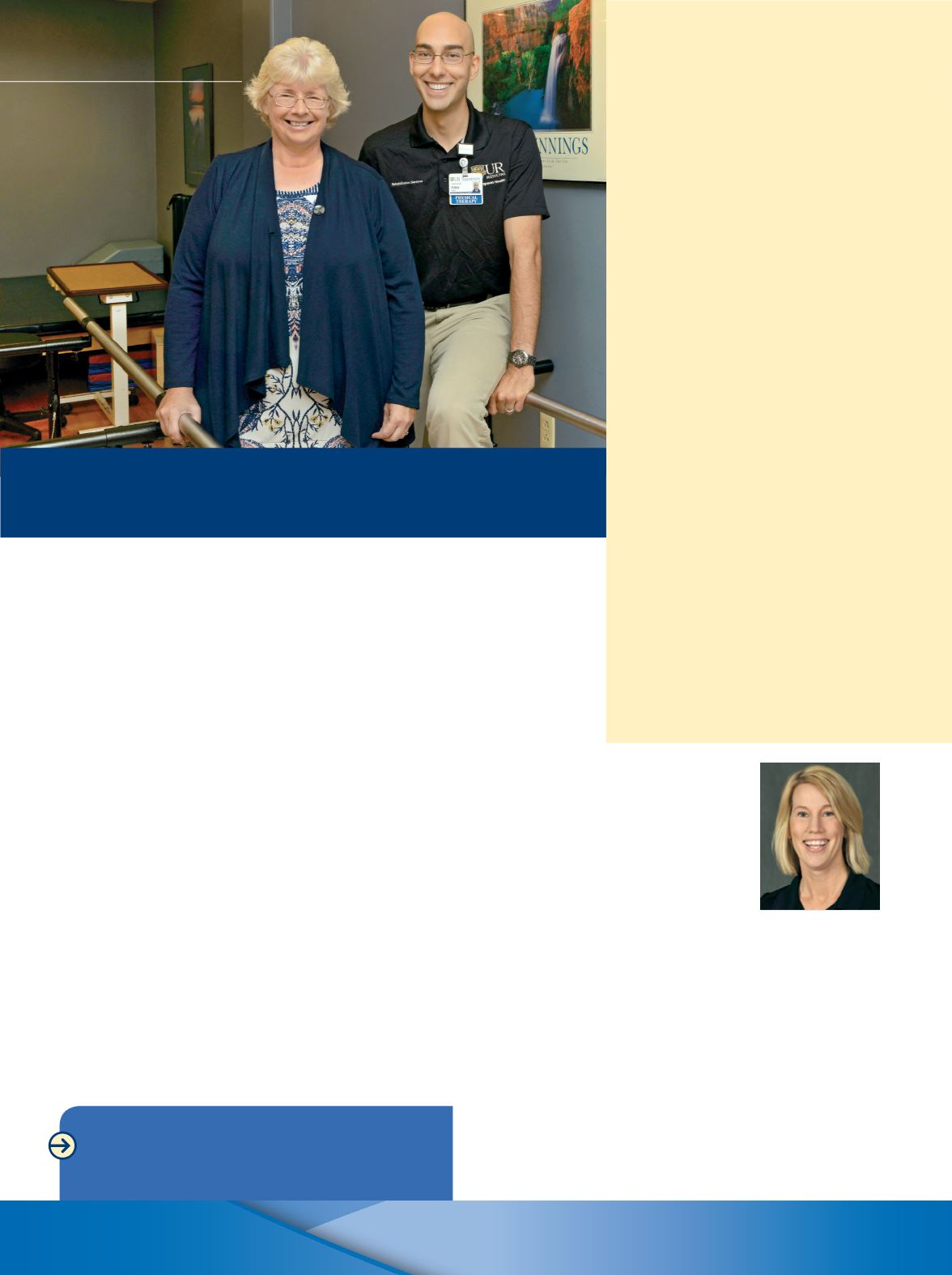 TRANSITIONAL CARE
GUILLAIN-BARRÉ SYNDROME
RARE, BUT
TREATABLE
Guillain-Barré syndrome is a serious disor-
der that occurs when the body's immune
system attacks nerve cells, causing muscle
weakness and sometimes paralysis.
Usually, the weakness starts in the legs,
but it can spread to the arms and upper
body. In severe cases, it can affect the
muscles that control breathing and be
life-threatening.
Doctors don't know what causes this
syndrome. It's often preceded by an infec-
tious illness, such as the flu. And recently,
some countries facing Zika outbreaks
have also reported an uptick in Guillain-
Barré syndrome.
Although there's no cure, treatment can
help people recover. Usually, this treat-
ment is in a hospital where some people
may need a ventilator to breathe. It may
also include:
• A plasma exchange, which can elimi-
nate antibodies that may contribute to
nerve damage
• Immunoglobulin therapy, which deliv-
ers proteins that lessen the immune
system's attack on nerve cells
• Physical therapy, once a patient starts
to regain limb control
Many people eventually recover fully.
CHRISTINE WILLIAMS
of Ovid had just recovered from a stom-
ach bug earlier this year when she began experiencing extreme
weakness in her legs, as well as tingling in her hands and feet.
An emergency department visit led to a diagnosis of Guillain-
Barré syndrome (see sidebar) and a 28-day hospitalization at
Strong Memorial Hospital in Rochester. There, the virus traveled
into her lungs, and she was placed on life support.
After she was able to breathe without the ventilator, Williams
underwent acute rehabilitation at Strong and then was trans-
ferred to Thompson Health's M.M. Ewing Continuing Care Cen-
ter in Canandaigua for continued rehabilitation in the center's
Skilled Transitional Unit.
Williams arrived at the continuing care center on March 18.
The 54-year-old married mother of two adult daughters had no
movement in her legs and was unable to walk. Staff members
had to use a hydraulic lift to move her.
GETTING STRONGER
She then began working with Occupa-
tional Therapist Amanda Pallar-Skorusa
and Physical Therapy Assistant Alex
Selim in the new gym adjacent to the
Skilled Transitional Unit.
"Amanda was nothing but encour-
aging, and Alex knew just the right
amount to push," Williams says.
"Within the first week, they were able
to get me into a stand aid. Within another week, I was using a
walker."
During her stay, she found support from the nurses as well.
Less than a month after arriving with little hope, she walked out
of the M.M. Ewing Continuing Care Center using a cane. Soon,
she was walking without the cane, and in July she went back to
work as a cook for the South Seneca School District.
Pallar-Skorusa says she was thrilled to be a part of the team
that worked with Williams, and also thrilled with her progress.
"I am so very proud of her and her amazing strength," she says.
Amazing strength,
teamsupport
D E T E RM I NAT I ON AND T H E R A P Y H E L P E D WOMAN
F I GH T B A C K F ROM A D E B I L I TAT I NG I L L N E S S
Amanda
Pallar-Skorusa, OT
For more information about the Skilled
Transitional Unit at the M.M. Ewing
Continuing Care Center, call
585-396-6021
.
Christine Williams of Ovid in Seneca County could not move her legs when she
arrived at the M.M. Ewing Continuing Care Center in March but walked out
with a cane less than a month later, thanks to a team that included Physical
Therapy Assistant Alex Selim.
10
| FALL 2016