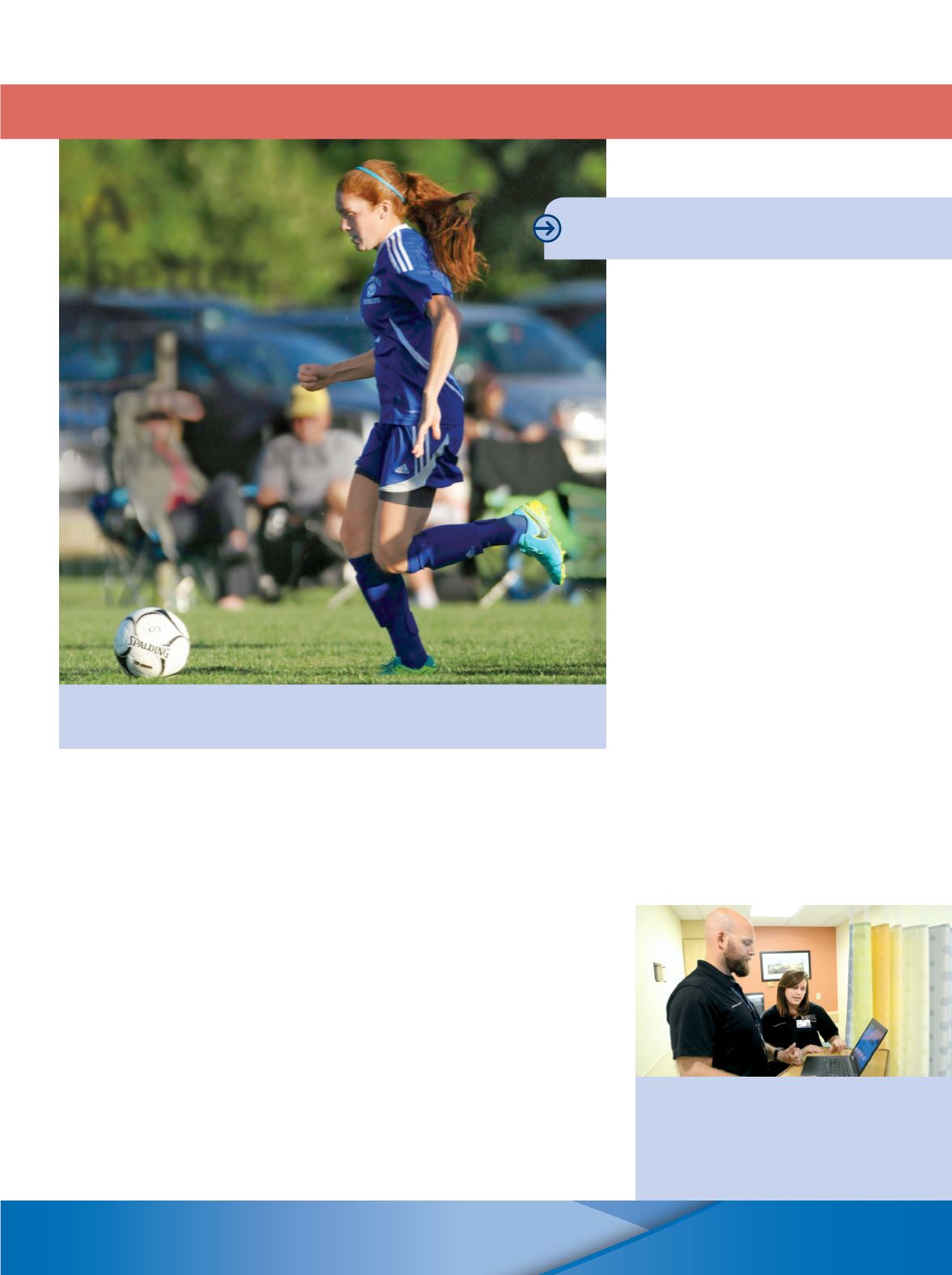 NOW MORE THAN EVER,
concussions
and the associated risks are making
headlines. And now, local athletes and
others at risk for concussions have access
to the latest technology in concussion
management. This past July, just in time
for the start of fall sports practices at area
high schools, Thompson Health's Sports
Medicine Department acquired ImPACT,
the most scientifically validated comput-
erized concussion evaluation system, as
well as the only FDA-cleared concussion
evaluation and management tool for
ages 5 to 59.
"As a clinician—and a former Division I
athlete in college who experienced
concussions first-hand—I think this is a
crucial piece of technology that allows
us to better assess and manage a
concussion, which in a lot of ways is a
A
better
tool
tomanage
concussions
I C A L T H E R A P Y A N D S P O R T S M E D I C I N E C A R E
hidden injury that is not always easy to
diagnose," says John Ahern, Thompson
Health Clinical Coordinator of Outpa-
tient Orthopaedic and Sports Physical
Therapy.
A concussion is a type of mild traumat-
ic brain injury caused by a blow to the
head or a hit to the body that makes the
head and brain move rapidly back and
forth. This can harm brain cells.
Most people fully recover, but every
concussion needs to be taken seriously.
Some cause lasting changes in thinking,
learning and memory, and having more
than one concussion raises the risk of
long-term problems.
HOW IT HELPS
ImPACT is a tool to help licensed health-
care providers evaluate and manage a
Prior to their season, all Bloomfield boys and girls varsity soccer players took the
ImPACT baseline test offered through Thompson Health.
suspected concussion. It offers both a
baseline test—administered prior to the
start of a sport season, school year or
other activity—as well as a post-injury
test, with post-injury results compared to
baseline scores or to the norm as part of
the assessment of the injury.
Before their fall season, all boys and
girls varsity soccer players at Bloomfield
Central Schools took the baseline test.
"This software does not eliminate or
reduce the possibility of injury initially, but
it does provide us the opportunity to pro-
tect our athletes from returning to play
too soon," says Jon Mastin, Bloomfield
Director of Health, Physical Education and
Athletics. "We know they want to get
back into the game and we want them
to return to the game as soon as possible
but without the risk of an additional,
more severe brain injury."
Athletes and people playing sports
aren't the only ones at risk for concus-
sions, however. Falls are a common
cause of concussions, and they can
happen to everybody, from toddlers on
playgrounds to older adults with balance
problems. No matter what the cause,
Ahern says, an evaluation can be helpful
and can be arranged without a physi-
cian's referral.
For more information on ImPACT, call Thompson
Health Rehabilitation Services at
585-396-6050
.
Physical Therapist John Ahern and
Athletic Trainer Mary Butlak are among
the Thompson Health professionals who
use ImPACT to evaluate and manage
suspected concussions.
PHOTO:
Messenger Post Media
THOMPSONHEALTH.COM
|
7