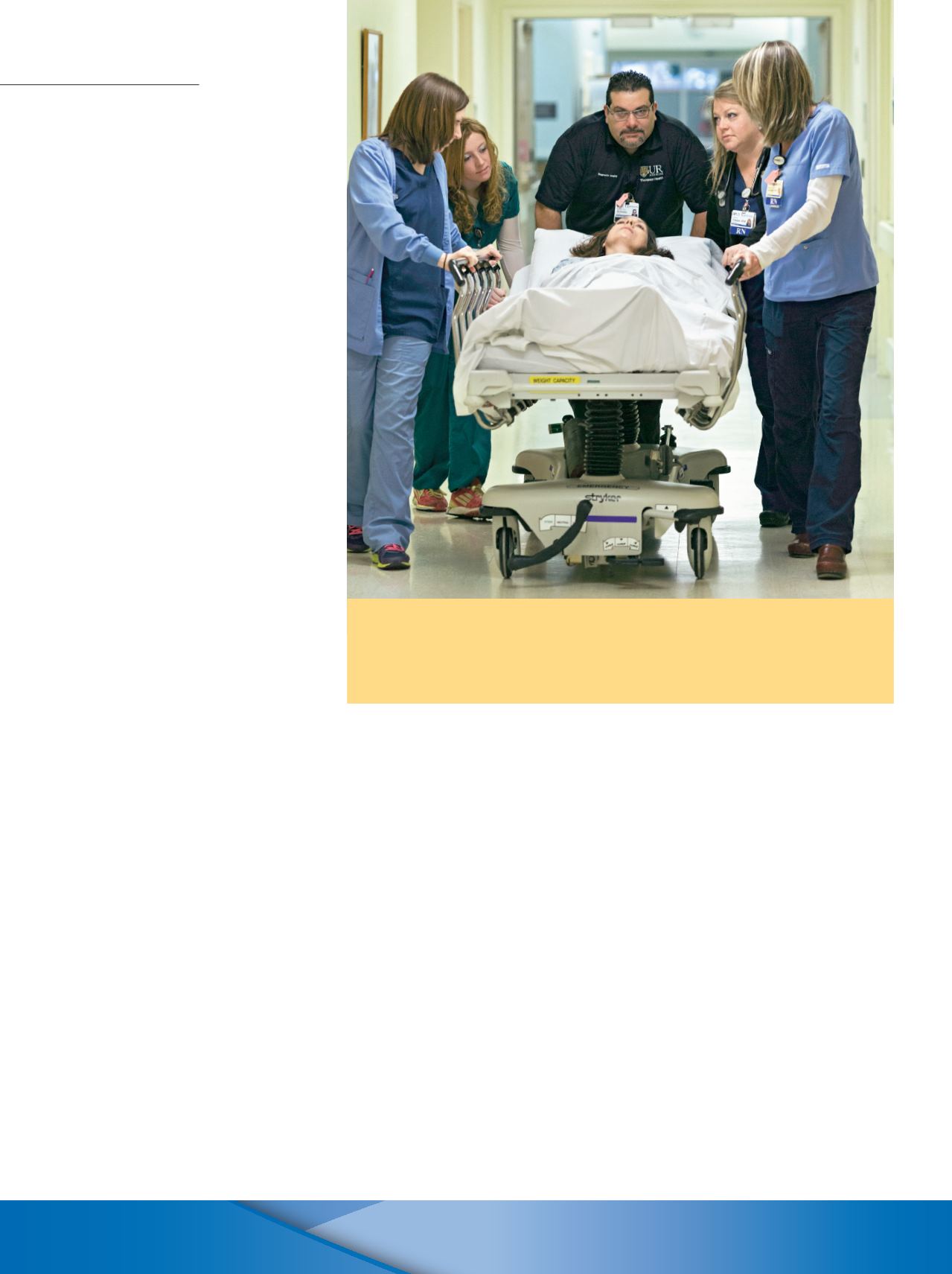 STROKE CARE
MAYBE YOU'VE HEARD
the phrase
"Time lost is brain lost." This simple sen-
tence says a lot about the need to treat
stroke as an emergency.
The longer you wait to seek help, the
greater the likelihood of brain damage
that can lead to long-term disability or
even death. If you act quickly, however,
treatment may stop a stroke and help
you or a loved one avoid the devastating
consequences of this sudden event.
"During each minute of a stroke,
1.9 million neurons are destroyed," says
Critical Care Registered Nurse Sarah Gal-
lagher, Stroke Coordinator for Thompson
Hospital.
HIGHLY SPECIALIZED STROKE CARE
A New York State-designated Stroke
Center, Thompson is a recipient of the
American Heart Association/American
Stroke Association's Get With The Guide-
lines–Stroke Silver Plus Quality Achieve-
ment Award.
In addition, Thompson is affiliated
with UR Medicine's Strong Memorial
Hospital, which is recognized by The
Joint Commission and the American
Heart Association/American Stroke As-
sociation as a Comprehensive Stroke
Center. This designation, which has been
achieved by only two other hospitals in
New York State, places Strong among
an elite group of institutions providing
highly specialized, complex stroke care.
In addition, Strong has the area's only
dedicated neuromedicine intensive care
unit, which provides multidisciplinary
care to critically ill patients with complex
neurological life-threatening illnesses,
such as stroke.
HOW A STROKE HAPPENS
A stroke occurs when blood flow to the
brain is suddenly disrupted. This can hap-
pen in two ways:
• Ischemic stroke.
In more than 80 per-
cent of strokes, a blood vessel leading
to the brain is blocked by a blood clot.
Clots can form in arteries narrowed
by plaque deposits or can travel to the
brain from other parts of the body, such
as the heart.
• Hemorrhagic stroke.
Less commonly,
a weakened blood vessel breaks, spill-
ing blood into or around the brain.
One frequent cause is an aneurysm,
which occurs when a section of blood
vessel weakens and balloons out.
Untreated, it can rupture, leaking blood
into the brain. Blood vessels weakened
by high blood pressure may also be
prone to rupture.
Stroke can affect any area of the body,
depending on which part of the brain is
If you think someone is having a stroke, call 911.
Our experienced stroke team is always ready.
Anatomy
of
a
stroke
WH Y E M E R G E N C Y
T R E AT M E N T I S V I TA L
damaged. It can cause paralysis or weak-
ness; problems with speech, memory or
thinking; emotional problems; or chronic
pain. Signs of stroke include sudden:
• Severe headache with no known cause
• Confusion
• Numbness or weakness in the face,
arm or leg, especially on one side of
the body
• Difficulty seeing in one or both eyes
• Trouble walking
KNOW YOUR RISK FACTORS
Talk with your doctor about your per-
sonal risk for stroke. Not all risk factors
can be changed, such as age or having
a family history of stroke. However, you
can prevent or treat many risk factors,
such as high blood pressure, diabetes,
smoking, being overweight or not
exercising.
Sources: American Stroke Association; National Institutes
of Health
8
| FALL 2016