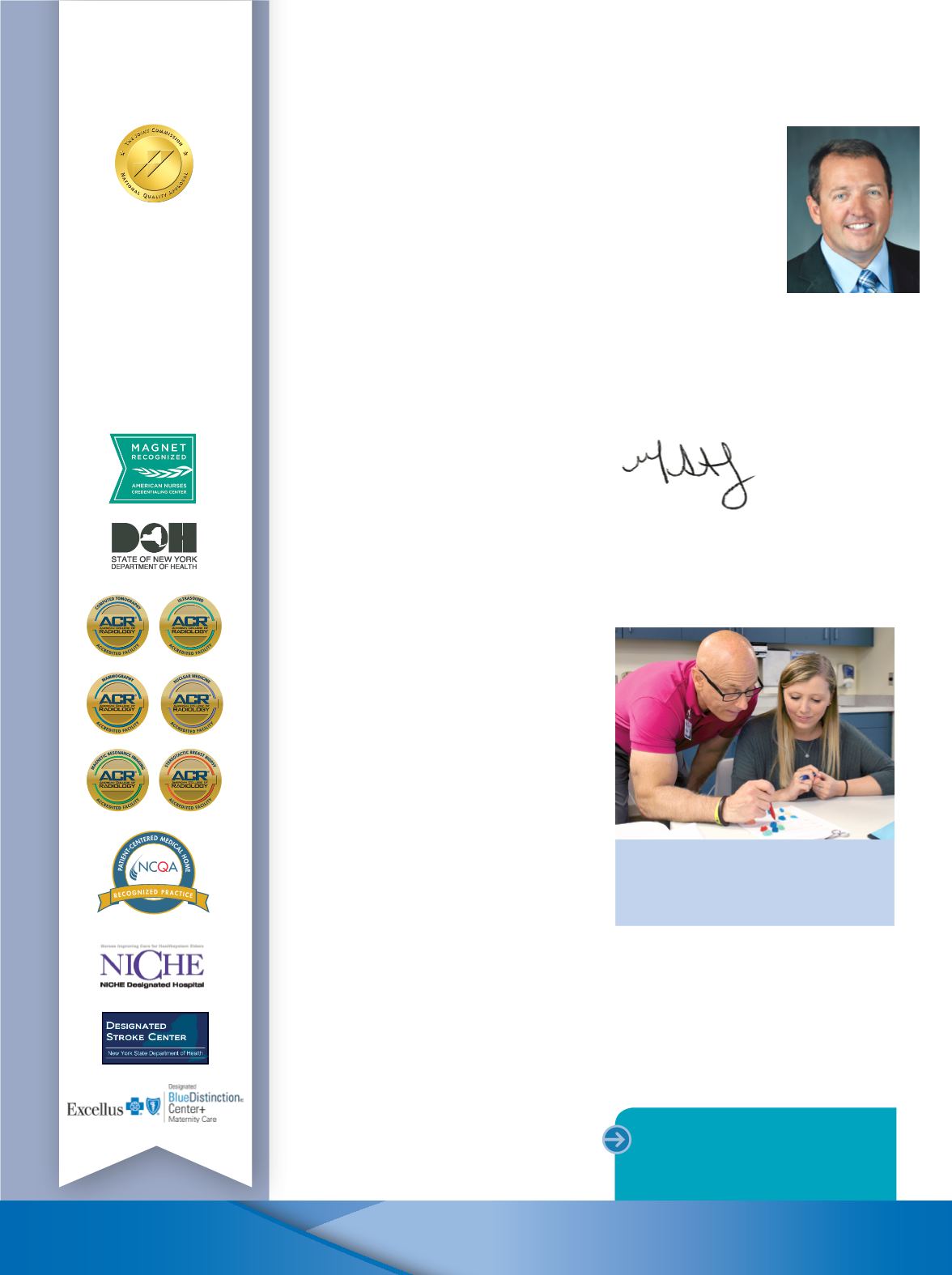 Hospital Quality
Designations
Thompson Hospital
is accredited by
The Joint Commission
and received the
Certificate of Distinction
in Management of
Joint Replacement–Hip
Joint Replacement–Knee
as well as Advanced
Perinatal Certification
TIME AND AGAIN
within UR Medicine's
Thompson Health, we emphasize the impor-
tance of communication in health care.
We understand we must communicate
effectively with one another in order to
enhance quality and safety. We also realize
while the care we offer is something we are
intimately familiar with, we must keep in
mind that a patient walking into our hospital
for a procedure or a test may have no idea
what to expect.
Partners in Health and Wellness
is just one
more way we can communicate with you, the
members of our community. This magazine
allows us to share information you can use
to take charge of your own health, as well
as information about the full spectrum of
services we offer and how we are continually
raising the bar.
In this issue, for example, you can learn
about our new, state-of-the-art SafeGait 360°
M E S S A G E F R O M O U R C E O
Keeping lines of communication open
Balance and Mobility
Trainer
®
, our cutting-
edge concussion man-
agement services and
the enhanced palliative
care services now avail-
able through Thompson.
We hope you will
find this issue informa-
tive. As always, we welcome your feedback
and invite you to contact us via our web-
site,
ThompsonHealth.com
, or our main
phone line,
585-396-6000
.
Michael F. Stapleton, Jr., FACHE
President and CEO
Instructor Michael Tiffany, DC, looks over
Sara Maher's work after a lesson on
terminology that included the dissection
of gummy bears.
Nurturing young talent
THOMPSON HOSPITAL
and the New Vision
Health Therapy Sciences program offered
by Wayne-Finger Lakes Board of Coopera-
tive Educational Services (BOCES) recently
partnered to provide a unique opportunity to
area high school seniors with a passion for a
career in health care.
The program instructor and students are
at the hospital each Tuesday and Thursday,
using a conference center as their classroom.
They shadow clinicians and attend presenta-
tions from hospital staff while earning college
credit through Gemini courses offered in
partnership with Finger Lakes Community
College.
Both theory and hands-on experience are
introduced, highlighting career opportunities
in the fields of health care, exercise science
and rehabilitation. Beginning in January, the
students will have a series of three-week clini-
cal rotations, many of which will take place
at Thompson.
"We are very excited to be able to help
these young people pursue their passion,"
says Thompson Health Vice President of
Associate Services Jennifer DeVault, adding,
"Who knows? They might just be our future
co-workers."
SELECTION PROCESS
To be selected for the program, interested
high school juniors must submit an ap-
plication with teacher recommendations;
transcripts; a list of extracurricular, commu-
nity or volunteer participation; and an essay
regarding their desire to pursue a health-
related career.
For information, call the Wayne-Finger
Lakes BOCES Finger Lakes Technical
and Career Center at
585-526-6414
.
2
| FALL 2016